Debunking Myths: Employment Edition
By Cindy Gardner, Managing Attorney
Let's talk about employment, and not just because it's National Disability Employment Awareness Month in October. The truth is that one of the best things that we, as a community, can do is to promote expectations of employment for youth with disabilities.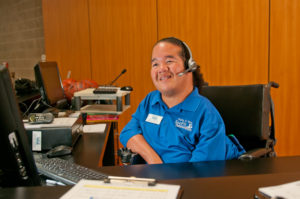 Many years ago (and I won't say exactly how many), I co-owned a restaurant in Oklahoma City. After setting the menu, choosing cutlery and fine-tuning a myriad of unimportant details, it was time to make decisions about what really makes a restaurant succeed: service! One of our friends at the time was a Vocational Rehabilitation (VR) transition counselor and she suggested that I think about hiring some of their clients. I wish I could say that I didn't have any apprehensions or concerns that many employers had about hiring people with disabilities, but that's not the case. Despite my worries, I worked with my friend to set up a six-week job training program at the restaurant. And the rest, as the saying goes, was history.
Those six-weeks were life-changing for me, and in many ways, planted the seed for me to the work that I do today. At the end of the program, I hired two of the sixteen participants as full-time employees, and I wish I could have hired them all! My employees with disabilities never called in sick. They gave 150% effort every shift. They were among our customer's favorites. But above all, I'll never forget the look on their faces when they received their first paycheck. It's a reminder to me that though our jobs don't define us, being gainfully employed adds so much to our self-worth.
I don't live in Oklahoma, nor do I own a restaurant anymore. I am still, however, an active proponent of encouraging young adults with disabilities to strive for employment. After moving to Tennessee, I worked as an employment attorney at Disability Rights Tennessee, working with VR clients trying to get to work. Yet again, I was reminded that so many employers are scared to higher people with disabilities. I also saw firsthand how many parents were hesitant to allow their child to work for a myriad of reasons, but an often cited one: the fear of losing benefits.
I'm not going to speak a lot on the first point, as there are many organizations working on changing this bias (checkout TennesseeWorks for resources). I will add that when you happen upon an employer who hires people with disabilities, take time to tell them thank you—it really does help! As to the latter, the fear of losing benefits is real, and not necessarily for the monthly check, but for the Medicaid benefits that are crucial. Here are three common myths that I hear from families.
1. If my child works, they won't qualify for SSI benefits.
First, your child's SSI check will be reduced if they work, but ONLY at a 2:1 ratio. We use a rough "Rule of Thumbs" to explain this to families. For every $2 your child earns, their check is reduced by only $1. For example, Suzie works at Kroger earning $8.00 per hour and works 15 hours per week. She turns in her pay stubs to the Social Security Administration and her check is adjusted monthly. In our example, Suzie's $480 in earned income, reduces her check by roughly $220.00 (the first $20.00 of earned income is exempt). So, her total income for that month, if she was receiving the full benefit of $735.00, would be $995.00! ($480 from her paycheck and $515.00 in SSI). Suzie is ahead of the game by $260.00 per month! Not to mention the non-financial benefits we all get from working! For an evaluation of your child's work/benefits analysis, contact the Ticket to Work Help Line at 866-992-4468 to be connected to a benefits specialist in your area.
2. If my child accumulates funds from working, they will be kicked off of SSI and TennCare.
Usually not true. The maximum amount of assets that a person with a disability can have to their name is $2,000 and still qualify to receive SSI benefits. That is an easy threshold to surpass for many individuals who are working, and perpetuates the idea that people with disabilities must remain poor. How do we get around this, you say? ABLE accounts. ABLE accounts are tax-advantaged savings accounts for individuals with disabilities and their families. Under ABLE, eligible individuals and families may establish ABLE savings accounts that will not affect their eligibility for SSI. You, your family and friends, and even your child themselves, can add up to $14,000 per year to an ABLE account and it can grow TAX FREE up to $100,000.00, without impacting their SSI, Medicaid (Tenncare) and other public benefits. ABLE accounts provide a mechanism to essentially increase this $2,000 asset limitation so that individuals with disabilities and their families can save money for their future and improve their quality of life.
Specifics on how ABLE accounts funds can be used and answers to other frequently asked questions can be found here. There are other tools that can be used to safeguard finances, including Special Needs Trusts, which I'm always happy to talk with families to decide what might best work for their child to set them on the path for employment and financial security.
3. I'm my child's conservator. I've been told they can't work.
This one is absolutely NOT true! Recently I was in Knoxville presenting on estate planning where I ran into one of my families that I have helped with both a conservatorship and a Special Needs Trust. Aside from summer vacation plans that hadn't gone well, they were happy to report that their daughter, "Ellen", was doing great and what's more, she was working! They could not believe the change that having a job had done for Ellen: she was happier, more confident, and her health had improved. Having a conservatorship had not limited Ellen's ability to work. In fact, having her parents as a resource gave the employer confidence that Ellen would have support with her medical needs, given the employer one less concern.
These are just a few of the myths that I hear often from parents, but there are others as well, though none that are ultimate deal breakers for employment. So, let's make plans for young adults with disabilities that safeguard their future and gives them opportunities for independence. We'll be helping families do just this at our upcoming workshop. I hope to see some of you there! For those of you that can't make it, we're just a phone call away.
Oh and, Happy Halloween!
Cindy